Four Tips for Making the Best of a Holiday Move to Austin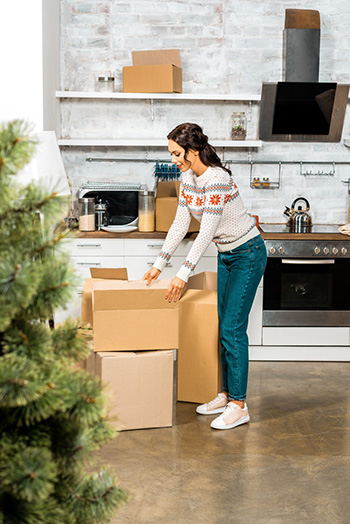 By Julie DeLong, A-1 Freeman Moving Group
For anyone who is reading this, you've probably got a
moving company in Austin
set up and are moving during the holidays. And unless you are moving "back" someplace, this is the toughest prospective season to pack up your home and go live someplace else. There is no hesitation this is not the way you thought you would spend your winter break or Thanksgiving holiday, but here you are--ought to make the best of it. Listed below are several suggestions to helping you through a holiday move.
Put Up A Tree. Or Two.
Your home is a mess with moving supplies anyhow, so why not put up a tree and place stockings by the fireplace and a wreath on your entrance? Should you get a live tree, who cares regarding dropped needles? You're moving anyway. Get the children participating with decorating and go all the way --leave no branch untouched. In the event that you have not shopped up to this point, wrap empty boxes with the previous year's excess wrapping paper and take a lot of pictures. Make a playlist of everybody's treasured Christmas songs and blast it whilst you deck the halls.
Should you have young children, wrap a handful of their gifts and set them under the early tree as a surprise. Big kids and spouses will appreciate this touch likewise.
Bonus--you'll learn which strands of lights work ahead of when you get to your new residence.
Coordinate a Friendsgiving
When your Thanksgiving looks like an anonymous meal at a diner on the highway, put together an early get together. Friendsgiving is a newer trend for which you commemorate together with neighbors and friends, hence how about a farewell meal prior to going? Ask a close pal to host for you and prepare the dinner together--this is a great chance to share dishes. Don't neglect any traditions--play cards, watch a sporting event on TV (there's always on demand, if necessary) go to a light display, or maybe even go shopping at midnight--you'll find plenty of 24-hour retail establishments to be able to maintain the tradition, and you're less apt to get trampled.
Once more, there is a bonus--the silver's now polished.
Make Adorning Your New Home A Goal
After arriving to your new residence in Austin, don't pass "Go" with your holiday decorating cartons and bins--have the moving company crew drop them right in the living room where you will be putting up your tree. Next, get to it--trim the tree, display the stockings, and light up the night--you will be able to set up your cable TV any time. You've already got that holiday song collection, switch it on and sing along--it offers a excellent cross over from your previous house to your new one.
Launch New Traditions to Keep the Magic Alive for Youngsters
Moving to Austin is difficult for your family, however it might take a toll on kids more than adults. You have had familiarity with new places, and most kids haven't. You should retain as many traditions as you can, but in addition to start a couple of new ones. Here are several ideas to get you started.
· Take advantage of different weather conditions --hike, sled, swim, or go to the beach. Show your children the advantages of their new hometown by incorporating new fun-filled activities.
· Via the internet, figure out where the best Santa is, the most impressive light displays, as well as other local traditions, are and make a evening of it.
· Additionally, using google, locate memorable events--concerts, plays, live Nativity displays, parades, and New Year's Eve events. A lot of places hold family-friendly celebrations for New Year's, where the ball drops about nine o'clock and there are lots of activities for the children.
· Welcome your internal tacky--if you've always blown right past the blow-up sleighs and Frostys, irrespective of how hard the kids beg, this may be the year to let it go and get whatever lawn ornaments your children wish. If that means light-up reindeer together with a sleigh as well as the Grinch, get out your pump and spotlights and simply give up on Martha Stewart this year. Here's a secret--ten years from now you might be sorry if those blow-up figures break.
Managing a holiday move to Austin needn't be the toughest thing ever; give attention to your loved ones, the season and the celebrations--it is a guaranteed approach to help you fake it until you make it.
Request a free quote